Demister is a complicate structural object that is layered with many sheets of wire mesh.
The wire mesh is woven by finer wire with two-ply and waved each other.
Because demister has a big porosity ratio, about 94%-99%, it becomes light weight.
And because all surface of wires touch with porosity, its superficial area becomes very large, and pressure drop
becomes low.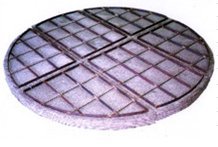 Style of demister
SK-80
SK-192



SW-216



SW-432



CMG
Style
Porosity
Superficial Area
Density
Compellation of other makers
(%)
(m2/m3)
(kg/m3)
York
KOCH
Metex
certain maker in Japan
SK - 80
99
158
80
931
9310
Hi - Thruput
H
SK - 120
98.5
210
120
644
6440
L
SK - 144
98.2
280
144
431
4310
Nu - Standard
N
SK - 192
97.5
375
192
421
4210
Xtra - Dense
SL
SK - 300
96.2
575
300
SM
SK - 390
95
750
390
SH
SW - 128
98.4
430
128
326
3260
SN
SW - 216
97.3
908
216
T
SW - 432
94.6
1810
432
333
5540
Multi - Stand
R
WK - 110
98.8
163
114
WK - 220
97.2
428
215
Wound
W
Way of installing grid and demister